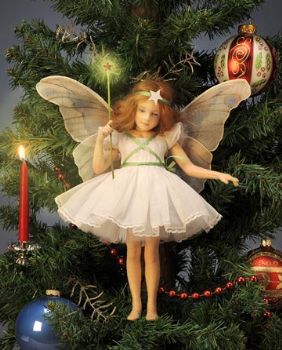 **
Christmas Fairy Wish - A Poem
**
-Author unknown
There was once a little fairy
That danced to and fro,
She loved the cold winter nights
and making toe prints on the snow.
She loved the dark night sky
And seeing her breath turn to mist,
The moon shining down on her golden hair
But there was something that she missed.
She wanted so much to be a star
A golden glowing light,
To sit up high on an evergreen tree
For someone's Christmas night.
She flitted though the sky
Going from window and door,
Watching all the people inside
Decorating from ceiling to floor.
Then she came upon one house
And it made her stay awhile,
And what she saw inside that house
Eventually made her smile.
There was no holly and tinsel,
There were no gifts to behold,
But there was a tiny little tree
They just brought in from the cold.
They decorated it with popcorn
and a colorful paper chain,
and handmade silver angels
and snow from the window pane.
But after their tree was finished
and the children were fast asleep,
The one thing fairy noticed
And it made her gently weep.
There was no golden star on top
There wasn't one for this tree,
And it made the fairy very sad
And she lost all of her glee.
And just then Santa bent over
And saw the little fairy's tear,
He looked into the window
And knew what would bring her cheer.
He picked her up and granted her wish
And set her on top of that tree,
And in an instant she was glowing
It was the perfect place to be.
The tots came down to peek
in the wee hours of the night,
And there upon that tree of green
Was a star shining ever so bright.
From his sleigh up in the sky
Santa watched this joyful sight,
Sleep well little tots, and fairy, too,
On this wonderful Christmas night